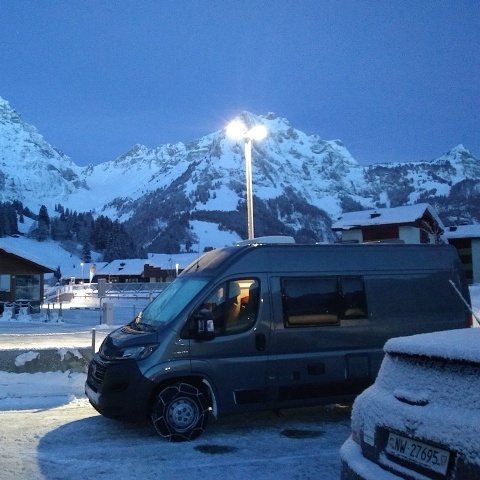 Voralberg. The Haute Alps. Carinthia. Arlberg. The Savoie. Tirol. Piedmont. Salzburg. The Bernese Oberland.
These and others are our zones on any one trip.
When you come with The Uncommon Line, you don't lock yourself to any one resort or one small region. Conversely, when you wake up at the Milan airport on Day 1 of the trip, we might be heading to nearly any spot in Europe. And on days 2 through 7, we might be on the move to change zones in order to get the best quality snow and the deepest descents.
Our trips are uniquely nomadic.  We're looking for fellow gravity addicts who'll happily sign up for afternoon-evening road trips for the sake of quality the following day. Our uncommon mobility is the signature that makes our trips different than other ski and snowboard trips out there. We achieve this by synthesizing relentless, multi-source snow forecasting, just-in-time hotel bookings, a pair of vans to haul the crew and its gear, and a communal appetite for adventure.
At The Uncommon Line, we don't know exactly where we'll be going, except that we'll move as necessary to find the best riding possible.
For our week in the Alps, there is only one thing we really care about—the hours of the day that we are on the mountain from bell to bell. Our goal is to chase as much untracked snow as we can find for the most float and the most face shots we can get in a one-week window. This focus is what drives the nomadic quality and the fast pace that we design and embrace in our trips.
The flipside of our focus on maximizing mountain hedonism is that we give up certain creature comforts. Or more accurately, we don't really care about them. Hitting the spa, shopping in the high-end boutiques, or lying on sun chairs for hours is not our thing. Instead, we embrace the need at times to get behind the wheel of the van in the afternoon and road trip to the next zone—we'll happily do the driving while you hang out in the back. The other result of our need for mobility and our just-in-time hotel sourcing is that we might stay in the equivalent of a Best Western 45+ minutes from the lift on some nights.
All of this is driven by our 9-to-4 Focus—our mission to chase the deepest snow in the best lines. We think our priorities are pretty reasonable, and we're looking for skiers and riders who share them.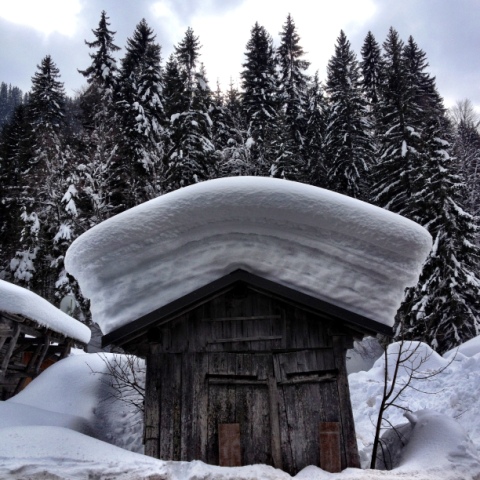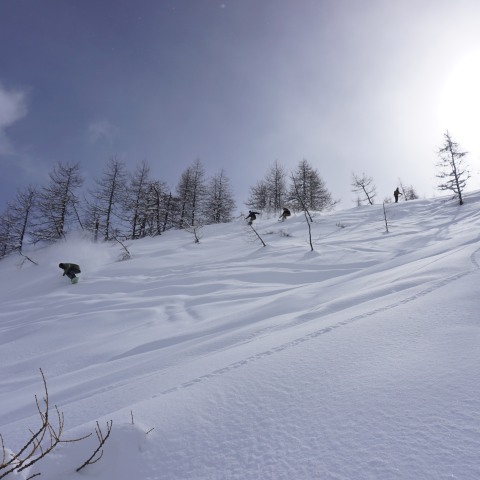 Lapping a "private" stash of Italian trees with a pack of 10 is a damn good time. So is dropping into a 4,000 vertical-foot zone of unrelenting Swiss terrain. Despite what the cliché says, powder days are way, way more fun with friends. At The Uncommon Line, we build groups of skiers and snowboarders who share our perspective and who roam with us for great lines and deep snow. With the nomadic nature of how we chase snow and how we bring together dwellers of the mountain commune to session together for a week, there is definitely a tribal vibe to what we do.
We can all travel in small groups of two or three friends, but something special happens when we explore and session mountains in a group of 10 to 12 people.  When this group comes together around a shared love for mountains and snow, to stoke is amplified.
Our favorite spots, and the ones to which we take our clients, are the mountains throughout the Alps that lack large crews of locals or high-level skiers and riders to compete with. We specialize in resorts and zones that have world-class terrain and snow, but are frequented mainly by tourists looking to relax on the piste and stop early for an afternoon on the sundeck. Many of these places are ones you've never heard of—they are what we call the "Unfamous". Shocking to a North American, there are places that hold powder stashes for DAYS, not hours; places where the hordes really do stay on the groomers and where there is no frenzied line-up on a pow day like at Jackson, Squaw, Stowe, Whistler and nearly every North American resort.
If Cham or St. Anton are on your bucket list, you should probably not come with us. At least not on this trip. Places like those can have too many badasses tearing them up. But if you want to session untracked lines without racing other people to the drop in, then you should hop in the van!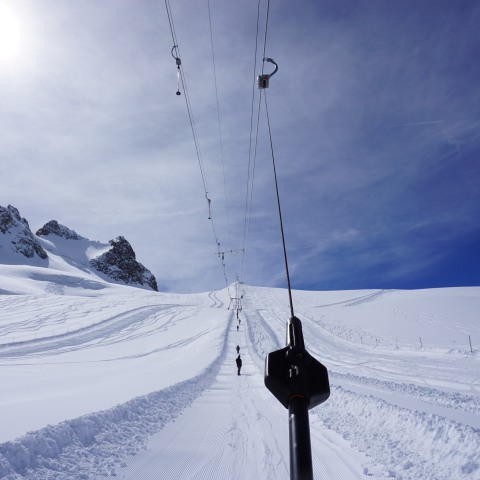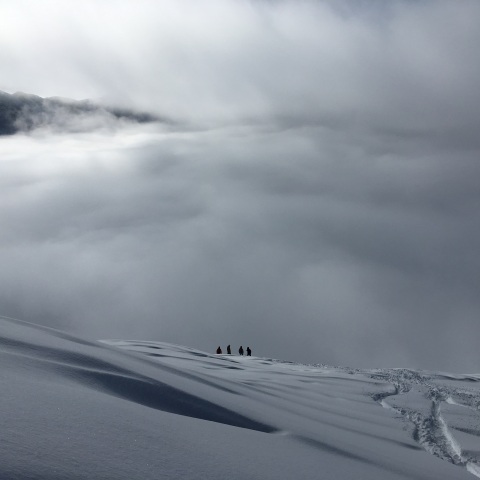 We lead trips that combine the known with the unknown—that mix is what makes them true adventures. With decades of collective experience skiing and riding the Alps, we start with personal knowledge of mountains throughout Austria, Italy, France and Switzerland where we know exactly where to go. This is the foundation on which we build our trips. Within this group of mountains, there are even a few resorts that we consider second "home" mountains.
For insider beta on mountains and localized weather patterns, we also rely on our network of mountain friends based in different areas of the Alps. For our just-in-time itinerary planning, these friends are a critical source of knowledge. We combine this information from our network with the real-time study of weather reports and other digital information sources to determine how we take the tribe to the best zones possible.
But alpine discovery and communal exploration is also part of what makes our trips special. With so many resorts in the Alps, there are places we want to hit where we've never been and which are unknown to our network. At times, we will decide to venture into that unknown terrain and the result can be mind-blowing. To do this, we apply our collective years in the mountains of Alaska, North America, New Zealand and Europe. This lets us read the mountain, while also studying the topography, to find amazing lines at spots we've never been to before. These days of mountain discovery are truly some of the most amazing days of our lives.